Quality Control
Hong Hui Pays much attention to quality management,we try to enhance quality of our products and service to meet requirements of different customers.In 2005,our quality Management system was certified to meet ISO9001:2000 Standard.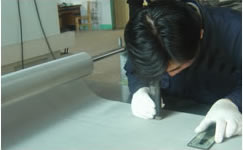 we strictly test raw material,includes tensile strength,the rate of knotting besicles,other physics chiamctes,but also test chemical ingredient accurete,and our quality control department have testing standards for incoming materials,these standards monitor the physical properties as well as the chemical composition of the raw material to ensure the quality standards of our finished products.
All finished products are inspected for defects before they leave our factory.our all inspectors are highly trained for comprehension of the established standards and are well versed in our quality inspection procedure.
Hong Hui is equipped with advanced testing instruments and equipment to guarantee the quality control of our products.